Get Glary Utilities – Free Unlimited Giveaway
Get Glary Utilities – Free Unlimited Giveaway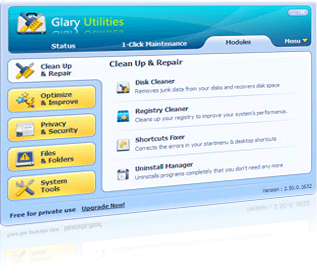 Powerful and Top all-in-one utility to fix, speed up, maintain and protect your PC. More info.
Optimize, clean and boost the speed of Windows
Protect your privacy and security.
Block spyware, trojans, adware, etc.
Fix certain application errors.
How to get Get Glary Utilities for free ?
1. Go to the promo page here
2. Click Download Galry Utilities.
3. Use the registration details given there.
Registration name: EaseUS Users
Registration code: 3788-61679-58234-2362